Lifting Vehicles With High-Voltage Batteries
Vehicles with high-voltage (HV) batteries (hybrid and electric vehicles) may have different considerations when it comes to lifting or jacking. Typically, a collision repair facility uses floor jacks, jack stands, and lifts to safely gain access to the underside of vehicles. Let's take a look at some of these considerations.
A technician should use the OEM vehicle-specific information to locate lifting points for a vehicle with an HV battery. Areas to find this information may include the:
Service manual
Body repair manual (BRM)
Owner's manual
Emergency response guide (ERG)
Some considerations when lifting or jacking an HV vehicle, either hybrid or electric, are:
Battery damage – Lifting in the wrong location or lifting a vehicle that is not allowed to be jacked up may cause serious damage to the battery pack itself.
Weight – Vehicles with HV batteries may weigh more than those using standard combustion engines. Because of this extra weight from the battery, certain jacks, jack stands, and lifts may not be able to hold the vehicle safely, which in turn could cause injury to a technician as well as damage to the vehicle.
Damage to related components – Even if you are careful not to place the lift or jacks on the battery itself, there could be other HV components in the area that may get damaged during the lifting and supporting process. It is important to familiarize yourself with the location of HV components. Additional items like exhaust heat exchangers and associated cooling system lines and hoses also need to be protected from damage.
Special tools and equipment – Some service information procedures require that lift hoist pads/adapters be properly placed in the designated areas to prevent damage while lifting the vehicle.
Many OEMs provide recommended lifting points on their service site. Some vehicles even have these locations marked with notches or stamping.
Always read guidelines and warnings for jacking and lifting, as in some cases, jack stands, and floor jacks are not allowed. If battery removal is required, additional equipment may be needed.
Always follow OEM procedures when it comes to lifting a high-voltage vehicle to ensure a complete, safe, and quality repair.
This article first appeared in the I-CAR USA Collision Repair News.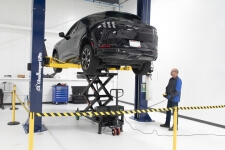 Back to All News