Back-To-Basics: Pinchweld Clamps – Anchoring
Sometimes going back-to-basics can make the difference between a quality repair and a failed repair. When it comes to anchoring with pinchweld clamps, there are a few basics to keep in mind.
It is important to check the configuration of the pinchweld flange early in the repair process. Some vehicles do not have a pinchweld flange, and others have a pinchweld flange that is too small for a traditional pinchweld clamp. In those cases, check with your frame straightening equipment manufacturer for more information on their adapters and potential vehicle-specific adapters.
A commonly overlooked operation before anchoring the vehicle is the removal of seam sealer and undercoating from where the pinchweld clamp will be placed. If seam sealer or undercoating is left in the area, not only will it plug the teeth of the clamp, but it may also allow the vehicle to slip in the clamps. This could also result in an incorrect measurement due to the vehicle shifting.
Before attaching pinchweld clamps, always check the backside of the pinchweld for other parts such as fuel lines, brake lines, or wiring harnesses that may require removal or relocation.
Lastly, remember that after removing the pinchweld clamps, seam sealer and undercoating must be reapplied to restore appearance and corrosion protection. Also, if any of the paint was removed or damaged, it should be repaired or refinished.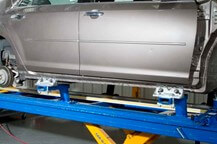 Rivet Guns – Does my shop need them?
When performing collision repairs, there are more attachment methods available than ever before. OEMs specify which attachment methods are recommended or required. If a method is not listed as an option, it should not be used.
GMA (MIG) welders and squeeze-type resistance spot welders are considered common. Should blind rivet guns and self-piercing rivet (SPR) guns be added to that list?
Rivets are not only being required to replace existing SPRs and blind rivets but also in locations of other attachment methods such as welds. Rivets are typically installed in conjunction with adhesive (rivet bonding), which adds another level of complexity when repair planning.
Often an assortment of different blind rivets, SPRs, and SPR rivet gun dies are required to replace a single part. When rivet bonding, it is important to have the correct rivets, dies, and rivet guns laid out in an organised manner for efficient installation before the adhesive cures.
The 2019 Holden Astra K model comes to mind when rivets are mentioned. This is a common vehicle that has made its way into many shops, but it's not the only one you will see. There are many vehicle makers that require rivet bonding for repairs.
OEM-specified SPR guns and blind rivets guns may be required to properly install the rivets for the repair. Reading and understanding OEM procedures to identify the required types of rivets and rivet guns is essential to help ensure a complete, safe, and quality repair.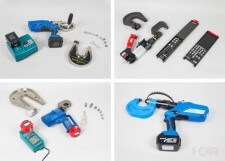 Corrosion Protection Guidelines
A key factor in collision repair is making long-lasting repairs. When a vehicle is repaired, many areas of corrosion protection are disturbed. This creates corrosion hot spots, that left untreated will lead to corrosion, and potentially a repair failure. However, there are certain precautions that can be taken to safely and properly restore the corrosion protection throughout the repair process. OEMs often give specifications on restoring corrosion protection. These specifications generally include seam sealer, adhesives, foam fillers, and cavity waxes.
Most OEMs have recommendations for the use of corrosion protection before, during, and after repairs are completed. Some of the OEMs recommend using their own specific product line whereas some recommend third party corrosion protection products. A few even let you choose which product to use and give specifications that the product must meet.
Always follow OEM repair procedures for all repairs. Failure to follow corrosion protection guidelines can lead to premature failure on a repair. Using the proper corrosion protections will ensure a complete, safe, and quality repair.
Additional I-CAR Collision Repair News you may find helpful:
Corrosion Protection Guidelines: Audi
Corrosion Protection Guidelines: BMW/Mini
Corrosion Protection Guidelines: Fiat Chrysler Automobiles (FCA)
Corrosion Protection Guidelines: Ford/Lincoln
Corrosion Protection Guidelines: General Motors
Corrosion Protection Guidelines: Honda/Acura
Corrosion Protection Guidelines: Jaguar Land Rover
Corrosion Protection Guidelines: Kia
Corrosion Protection Guidelines: Mazda
Corrosion Protection Guidelines: Mercedes-Benz
Corrosion Protection Guidelines: Mitsubishi
Corrosion Protection Guidelines: Nissan/INFINITI
Corrosion Protection Guidelines: Subaru
Corrosion Protection Guidelines: Toyota/Lexus
Corrosion Protection Guidelines: Volkswagen
Corrosion Protection Guidelines: Volvo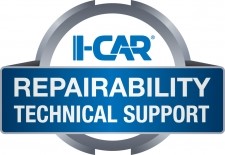 One-Time-Use Parts and Fasteners
What is a one-time-use part, and how do you determine if a fastener, clip, or part can be reused? These are questions that we are confronted within the collision industry quite a lot. The other big question is "Where do I find this information"?
As the I-CAR Repairability Technical Support (RTS) team researches OEMs for one-time-use part information, we are putting together a series of articles on how and where to locate this information for specific OEMs.
One-time-use fasteners/parts are specific items that cannot be reused after they have been loosened or removed. Types of one-time-use fasteners/parts include certain bolts, clips, trim, etc. They can even include stationary glass.
Most OEMs have at least one example of a one-time-use fastener/part. The reason it is only good for one use can vary. For example, torque-to-yield bolts are designed to stretch during the torquing process. These fasteners cannot be reused because of the excess amount of stress that was caused during installation. Some fasteners may have to be replaced due to a factory applied coating that prevents corrosion. In other cases, a part or fastener, such as a rivet, is simply impossible to remove without damaging it.
One-time-use parts and fasteners that appear to be uncompromised may look good but should not be reused. In addition, if new fasteners are supplied with a replacement part…use them.
Following OEM procedures, including the identification and use of one-time-use fasteners/parts, is important in order to help ensure a complete, safe, and quality repair.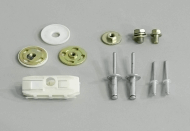 Foreign Language Subtitles on I-CAR NZ Courses
We have been working away in the background testing a subtitle facility for our courses. This will mean that some of our courses will now be advertised as SUBTITLED along with the language selected.
We haven't translated the course presentation or the paperwork but we will be translating the instructor! So in real-time the subtitles of the instructors speech with be translated across the bottom of the presentation in the selected language for that training. This will mean that attendees still need to have a relatively good grasp of the English language, it just gives them that extra helping hand. At the moment we are still working on which would be the best languages to start with so any feedback on that would be great.
Changes to the I-CAR Automotive Steel MIG Welding Qualification
The I-CAR Automotive Steel MIG Welding Qualification (WCS03) has been administered in its current format since 2001. In late 2018 the MIG Brazing Hands-On Skill Qualification was introduced and many have completed this qualification. This year will see the introduction of the Aluminium MIG Welding Qualification.
Many OEMs internationally are now utilising the I-CAR welding programme as their approved certification programme as it provides a specification that is accepted by industry and its stakeholders. As a result, I-CAR internationally has moved to bring the programme further in line with OEM requirements. Currently the I-CAR Automotive Steel MIG Welding Qualification period is for five (5) years and many OEMs require recertification in their respective welding accreditations in a shorter time period.
As from  1 January 2020, the recertification for I-CAR Automotive Steel MIG Welding, MIG Brazing Hands-On Skill Qualification and the Aluminium MIG Welding Qualification will be required every three (3) years. This brings all programmes in line with most OEM standard recertification programmes. For those technicians who have a current I-CAR Automotive Steel MIG Welding Qualification (WCS03), or a MIG Brazing Hands-On Skill Qualification, their five (5) year certification period will remain until retesting is required, then the 3 years testing will be introduced.
The  Aluminium MIG Welding Qualification will be the next phase for a welding technician and any participants must complete the Automotive Steel MIG Welding Qualification (WCS03) or have OEM certification in steel or aluminium before attempting the Aluminium MIG Welding Qualification (WCA03).
It  is envisaged that this pathway will further strengthen a technicians' abilities and provide them with a beneficial pathway to improving skills and knowledge of welding for structural repairs.
First Micro-Credentials for Secondary School Students
Secondary school students keen to gain experience in the automotive industry while at school can now achieve micro-credentials.
MITO's secondary school programme for the automotive industry, called StartUp®, has been approved as three micro-credentials by NZQA.
In August 2018 NZQA launched a micro-credential system as part of New Zealand's regulated education and training system. Micro-credentials are smaller than qualifications and focus on a specific set of skills and knowledge.
These are the first micro-credentials specifically for secondary school students.
StartUp® offers students in year 11, 12 and 13 a mix of eLearning theory and practical experience in an automotive workshop, with the credits earned leading into an apprenticeship.
"We're thrilled that StartUp® has been registered as three micro-credentials by NZQA. There are significant benefits for the students as their NZQA Record of Learning will capture their micro-credential achievements." says Janet Lane, MITO Chief Executive.
"Since StartUp® launched in 2007, 2,500 secondary school students have participated in the programme with nearly 25% progressing to an apprenticeship" says Ms Lane. "It's a fantastic opportunity for students to gain first hand knowledge of the industry, and for employers to offer work experience, ideally securing their next MITO apprentice. By providing a pipeline from school to industry, StartUp® is helping address skills shortages in the automotive engineering and collision repair industries."
FOR MORE INFORMATION
Please contact Janet Lane, MITO Chief Executive. Phone 0800 88 21 21.
FURTHER INFORMATION
The three micro-credentials are:
*  StartUp® Ignition – Automotive Micro-credential (Level 2, 20 credits)
*  StartUp® Accelerate – Automotive Engineering Micro-credential (Level 3, 21 credits)
*  StartUp® Accelerate – Collision Repair and Refinishing Micro-credential (Level 3, 21 credits)
Why Do Vehicle Manufacturers Make Our Lives Difficult?
When repairing vehicles, it sometimes feels like there is a vehicle manufacturer out there that wants us to have a horrible day.
But if we stop and take a look at the reasons why vehicles are being built in a way that is sometimes frustrating, you may find that the vehicle manufacturer and the technician have more in common than you think.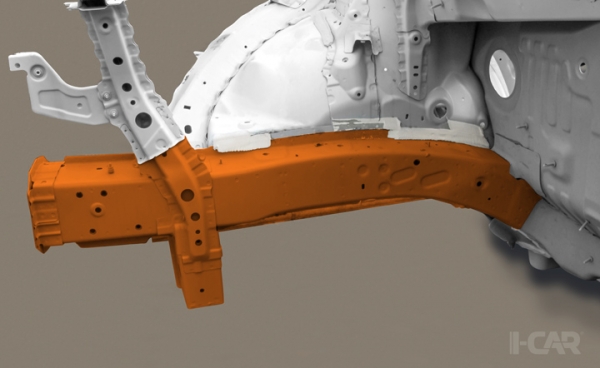 For years the collision repair industry had been used to having only vague directions to follow or we had to figure it out ourselves because the information did not exist. Now the repair manuals are so detailed, we can look at a procedure and it shows where every weld, rivet, foamed area, and even where to put the adhesive.
Why the drastic change? As the vehicle requirements around safety, Advanced Driver Assistance Systems (ADAS), and fuel economy has evolved, everything that goes into a vehicle had to change. The demands of these often-conflicting priorities have added complexity to an already complex machine.
For example, the next time you need to put three-quarters of a front lower rail at a factory seam instead of just the front third, don't assume that the vehicle manufacturer is making our lives difficult.  Though you may see a spot that seems perfect for a sectioning joint, there are several factors that could be making this infeasible. Some of the factors are:
The repair joint failed testing – there is a possibility when the vehicle manufacturer tested a sectioning joint in that perfect spot, the vehicle would not have the correct performance in the next collision. Remember making a change that strengthens an area can be just as fatal as making an area weaker.
There is a hidden reinforcement that cannot be seen – these parts can often be UHSS over 600 MPa and no repairs or replacements are allowed.
Panel layering – there may not be access to all areas that may need to be welded or the whole assembly has areas that cannot be duplicated outside the factory.
These are just a few of the possible causes that in the past, has started a few rants about vehicle manufacturers. But the frustrating part from a vehicle manufacturer's point of view is that one small change can affect the crash rating, the price of the vehicle, the repairability of the vehicle, and all the other conflicting priorities in a confined space. This can be just as frustrating to a vehicle manufacturer as a technician.
Steel Your Future (Video)
The automotive industry is entering an exciting, if challenging, new phase.
Steel is now looking forward to help bring the automotive industry into the future.
MIG Brazing
Want to know more about MIG Brazing?
We can now offer the Automotive MIG Brazing Hands-On Skill Qualification Assessment.