First Micro-Credentials for Secondary School Students
Secondary school students keen to gain experience in the automotive industry while at school can now achieve micro-credentials.
MITO's secondary school programme for the automotive industry, called StartUp®, has been approved as three micro-credentials by NZQA.
In August 2018 NZQA launched a micro-credential system as part of New Zealand's regulated education and training system. Micro-credentials are smaller than qualifications and focus on a specific set of skills and knowledge.
These are the first micro-credentials specifically for secondary school students.
StartUp® offers students in year 11, 12 and 13 a mix of eLearning theory and practical experience in an automotive workshop, with the credits earned leading into an apprenticeship.
"We're thrilled that StartUp® has been registered as three micro-credentials by NZQA. There are significant benefits for the students as their NZQA Record of Learning will capture their micro-credential achievements." says Janet Lane, MITO Chief Executive.
"Since StartUp® launched in 2007, 2,500 secondary school students have participated in the programme with nearly 25% progressing to an apprenticeship" says Ms Lane. "It's a fantastic opportunity for students to gain first hand knowledge of the industry, and for employers to offer work experience, ideally securing their next MITO apprentice. By providing a pipeline from school to industry, StartUp® is helping address skills shortages in the automotive engineering and collision repair industries."
FOR MORE INFORMATION
Please contact Janet Lane, MITO Chief Executive. Phone 0800 88 21 21.
FURTHER INFORMATION
The three micro-credentials are:
*  StartUp® Ignition – Automotive Micro-credential (Level 2, 20 credits)
*  StartUp® Accelerate – Automotive Engineering Micro-credential (Level 3, 21 credits)
*  StartUp® Accelerate – Collision Repair and Refinishing Micro-credential (Level 3, 21 credits)
Why Do Vehicle Manufacturers Make Our Lives Difficult?
When repairing vehicles, it sometimes feels like there is a vehicle manufacturer out there that wants us to have a horrible day.
But if we stop and take a look at the reasons why vehicles are being built in a way that is sometimes frustrating, you may find that the vehicle manufacturer and the technician have more in common than you think.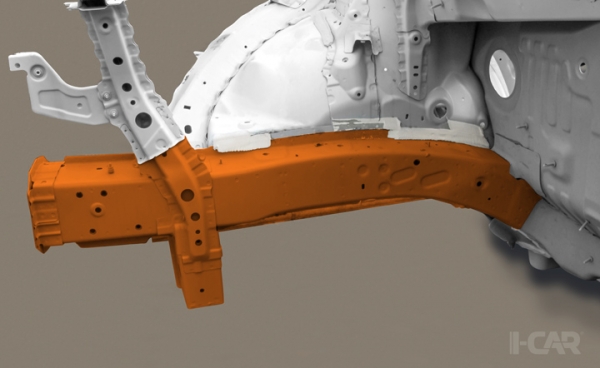 For years the collision repair industry had been used to having only vague directions to follow or we had to figure it out ourselves because the information did not exist. Now the repair manuals are so detailed, we can look at a procedure and it shows where every weld, rivet, foamed area, and even where to put the adhesive.
Why the drastic change? As the vehicle requirements around safety, Advanced Driver Assistance Systems (ADAS), and fuel economy has evolved, everything that goes into a vehicle had to change. The demands of these often-conflicting priorities have added complexity to an already complex machine.
For example, the next time you need to put three-quarters of a front lower rail at a factory seam instead of just the front third, don't assume that the vehicle manufacturer is making our lives difficult.  Though you may see a spot that seems perfect for a sectioning joint, there are several factors that could be making this infeasible. Some of the factors are:
The repair joint failed testing – there is a possibility when the vehicle manufacturer tested a sectioning joint in that perfect spot, the vehicle would not have the correct performance in the next collision. Remember making a change that strengthens an area can be just as fatal as making an area weaker.
There is a hidden reinforcement that cannot be seen – these parts can often be UHSS over 600 MPa and no repairs or replacements are allowed.
Panel layering – there may not be access to all areas that may need to be welded or the whole assembly has areas that cannot be duplicated outside the factory.
These are just a few of the possible causes that in the past, has started a few rants about vehicle manufacturers. But the frustrating part from a vehicle manufacturer's point of view is that one small change can affect the crash rating, the price of the vehicle, the repairability of the vehicle, and all the other conflicting priorities in a confined space. This can be just as frustrating to a vehicle manufacturer as a technician.
Steel Your Future (Video)
The automotive industry is entering an exciting, if challenging, new phase.
Steel is now looking forward to help bring the automotive industry into the future.
MIG Brazing
Want to know more about MIG Brazing?
We can now offer the Automotive MIG Brazing Hands-On Skill Qualification Assessment.
The Future? Electric Vehicle Disruption (Video)
An interesting take on what the future might hold… bonding
Is Your Business Eligible for a Flexi-Wage Subsidy?
You may be able to get a Flexi-Wage Subsidy to help take on someone on a benefit as an employee.
Also in some circumstances, training subsidies are available.
Find out if your business qualifies and what's involved →
Holden Releases Bulletin on General Welding Information
In a new bulletin, Holden indicates their new position on where spot welding is practical in repair conditions using portable resistance spot welding equipment.